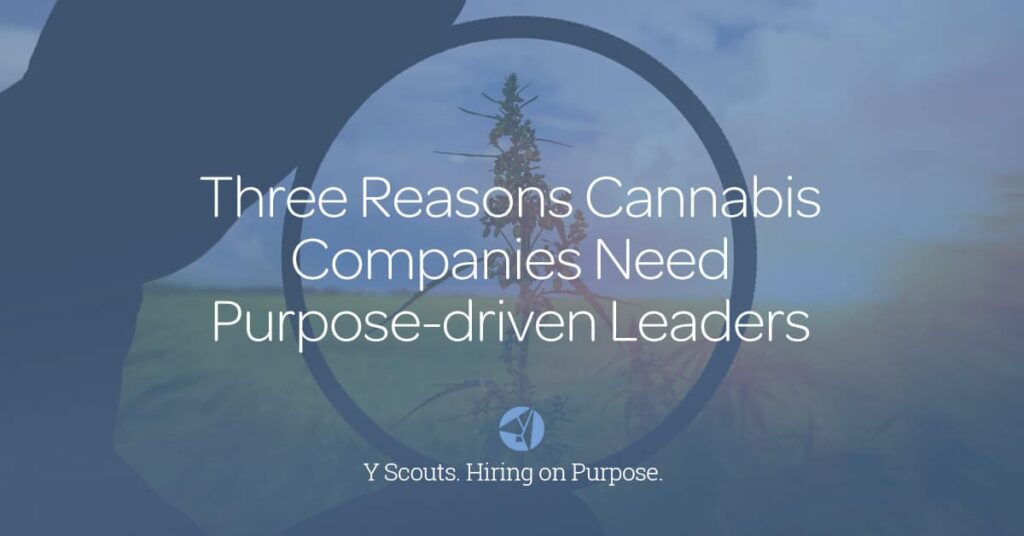 1. It's a social movement.
We have seen some of the most amazing brands such as Zappos, Southwest Airlines, Warby Parker, and Netflix built on seemingly plain-jane products and services. All companies that took somewhat commoditized products or services or both, and transformed them with a unique culture. If these companies can create great cultures from seemingly vanilla products and services, I cannot wait to see the types of company cultures the Cannabis industry will turn up.
The Cannabis industry is more naturally set up for companies to leverage meaningful work in their culture than almost anything we have ever seen. I think almost everyone has a personal story about someone that is close to them that has been positively affected by the medicinal uses of cannabis, whether it be a child who has experienced seizures or a cancer patient dealing with chronic pain. One of my best friends and business colleagues recently started treating his son's ADHD with CBD oil, and it has been life-changing. Before trying CBD oil, doctors worked every drug on the market known for treating ADHD with no success. It was a long and challenging process for the child and his family that was ultimately cured by just plain old CBD oil. Amazing!
We have already seen a large number of leaders in the Cannabis space whose purpose was created by a positive personal experience with cannabis as a medicine. We firmly believe this is just the beginning of a purposeful movement that will create opportunities for companies and leaders. Purpose-driven and performance-proven leaders are now flocking to the industry to impact the stakeholder ecosystem positively.
2. It is a high-growth / fast-growth industry.
Fast-growth companies need purposeful leaders to build great sustainable cultures. The global legal marijuana market is expected to reach USD 146.4 billion by the end of 2025. It's safe to say the cannabis industry is experiencing some of the fastest growth we have seen in any industry in our lifetime. From what we know about rapid growth companies, the strength of the culture is one of the most critical variables to drive positive impact, successful business outcomes, and ultimately enterprise value.
The only other high-growth industry to compare is technology. It's tough for me to think of a successful high-growth technology company that doesn't have a good company culture—one that is led by conscious and purposeful leaders. After having the opportunity to hire leaders in many purpose-driven companies, it's easy to see the ROI of creating a culture with defined purpose and values. Purposeful cultures mobilize people in a way that pursuing profits alone never will. Purpose-driven and performance-proven leaders are an absolute must-have for any fast growing cannabis company.
3. These are newly created cultures in a complex and developing industry.
In the grand scheme of the things, the cannabis industry is still in its infancy. Most of the big players have 4 to 5 years under their belt. Previously, many regulations directly restricted people from entering the market. A large number of people stayed away because of the legal implications—which have not been entirely lifted but eased enough to entice a large percentage of the population to recognize cannabis as a legitimate industry. Thirty-two states have legalized marijuana for medicinal use. Of those thirty-two, ten have authorized it for recreational use.
In an industry that was, in a sense, born overnight it is more critical than ever to have leaders who have built significant, sustainable cultures in other sectors. The simple fact is that the industry is too new to have deep-rooted cultures that have been carefully created. Cannabis will be an industry where only the strong will survive due to the complexities and development that is still to come. The rules of engagement are changing faster than ever. The first-mover advantages will be slowly be diminished in short order. Just as we have seen history play out, the companies who hire the best leaders – those who effectively drive sustainable purpose and meaning – will ultimately win the game.
Y Scouts specializes in placing purpose-focused leaders in this emerging market. Reach out to find your next leader.
—
Max Hansen, CEO, and Co-founder at Y Scouts
Max Hansen is a hiring process strategist who partners with CEOs, presidents, and other executive hiring managers to grow their businesses by hiring A-players. After spending nearly two decades successfully hiring tens of thousands of leaders in almost every industry, Max's true passion is up-leveling everyone's hiring game with purpose.
---
y scouts is a purpose-aligned, performance-proven leadership search and development firm focused on transforming how people and organizations connect to work that matters. when you're ready to hire a new leader, contact y scouts. if you are looking for your next leadership role within a purpose-driven, performance-focused organization, please join the y scouts leadership community.