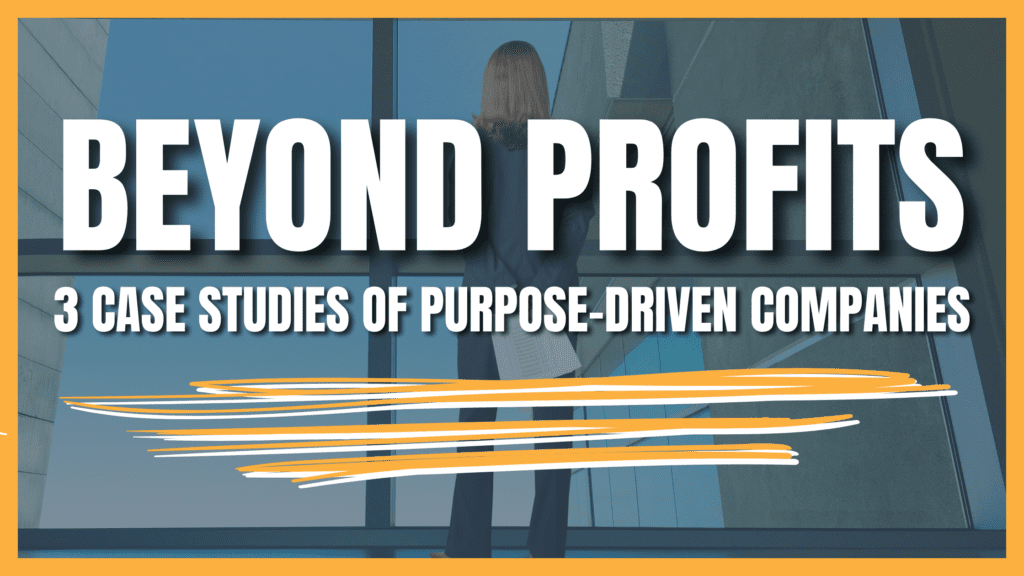 These days, more and more companies realize that "doing good" is good business.
Consumers want to support brands that share their values. Employees want meaning and purpose.
Let's check three examples of purpose-driven companies making a difference.
What Makes A Company "Purpose-Driven"?
Purpose-driven companies aren't new, but the movement is growing as businesses focus on more than profits.
Here's what defines them:
Values-based decisions and culture
Commitment to ethics and responsibility
A mission focused on creating a positive change.
Measuring and reporting impact
Purpose-driven companies have a lot to gain, including attracting talent, driving sales, boosting engagement, and building trust. As we dive into some inspiring case studies of purpose-driven companies, we'll see how these benefits are realized in practice.
Warby Parker
This eyewear startup aimed to disrupt the industry by offering stylish, affordable prescription glasses directly to consumers.
Warby Parker's purpose is to make prescription eyewear affordable and accessible to all.
Warby Parker's unique approach as a social enterprise earned them great reviews and loyal customers, proving that businesses can succeed financially while still making a positive difference.
Their innovative business model includes:
Direct-to-consumer – By selling online and in retail stores, they cut out the middleman markup
Home try-on – Customers can test out 5 frames for free before buying
"Buy a Pair, Give a Pair" – For every pair sold, Warby Parker donates a pair to those in need
Patagonia
This outdoor gear company fully lives its mission to "build the best products, cause no unnecessary harm, and use business to protect nature."
Patagonia's purpose is environmental protection and conservation.
By fully integrating environmentalism into every aspect of operations, Patagonia attracted legions of like-minded customers.
Patagonia's success stems from:
Sustainable manufacturing – They utilize recycled and organic materials to reduce environmental impact
Bold activism – Patagonia takes public stands to advocate for environmental protections
Generous giving – They donate 1% of sales to grassroots green groups
Product innovation – Patagonia constantly pushes new ways to make gear more sustainable
Toms Shoes
Toms Shoes grew rapidly thanks to its pioneering "One for One" business model. For every pair of shoes purchased, Toms donates a pair to a child in need.
Toms Shoes' purpose is to provide shoes to those in need.
This creative approach to corporate giving proved a single company can make a significant positive difference.
Toms' success is driven by:
Unique giving model – Toms' One for One business model is a unique and innovative way to give back to the community. The company has donated over 100 million pairs of shoes to children in need since it was founded in 2006. This has created major consumer buzz and loyalty, as people feel good about supporting a company that is making a difference in the world.
Partnerships – Toms has also partnered with a number of charitable causes, such as Water.org and the Peace Corps, to expand its social impact. These partnerships have helped Toms to reach more people in need and to make a greater impact on the world.
Customer engagement – Toms' customers are also engaged in the company's mission. They can track the impact of their purchases through the Toms Giving Tracker, and they can also volunteer their time to help the company's charitable partners. This level of engagement is rare for a for-profit company, and it is a testament to Toms' commitment to making a difference.
Bonus Case Study: Y Scouts
We wouldn't feel right publishing this article without giving ourselves a little pat on the back.
Y Scouts is the first-ever purpose-based leadership search firm on the planet.
Y Scouts' purpose is to connect people and companies to work that matters.
By staying true to their purpose, Y Scouts has transformed hiring and leadership.
Y Scouts' success is driven by:
A clear and concise mission – Y Scouts' mission is to "help businesses find purpose-driven leaders who will create a more sustainable and equitable future." This mission is easy for clients to understand and rally around.
A commitment to purpose-driven leadership – Y Scouts is committed to helping companies find leaders who want to make a positive difference, not just maximize profits. This commitment is evident in Y Scouts' rigorous selection criteria.
A strong network of purpose-driven leaders – Y Scouts has cultivated an extensive network of vetted candidates who are value-aligned. This allows them to make leadership matches based on purpose.
A proven track record – Y Scouts has successfully helped companies of all sizes find purpose-led leaders who have made a significant impact. Our track record proves the model works.
Conclusion
Since Y Scouts was the first-ever purpose-based leadership search firm on the planet, this article wouldn't be complete without highlighting us as another example.
These companies provide an inspiring model for organizations looking to find their "why" beyond profits. Their success shows how pursuing a mission to make a positive difference boosts the bottom line.
Of course, embedding purpose requires commitment – identifying values, selecting causes, and baking purpose into operations. But the rewards outweigh the challenges.
Consumers and talent are flocking to purpose-led brands. Is it time to re-examine your company's reason for being? By making a genuine commitment to driving change, your business can gain devoted stakeholders and success.
Purpose is not just nice-to-have, it's a necessity. The purpose-powered leaders prove doing good drives business results.
Will you be next to turn your company into a force for good?