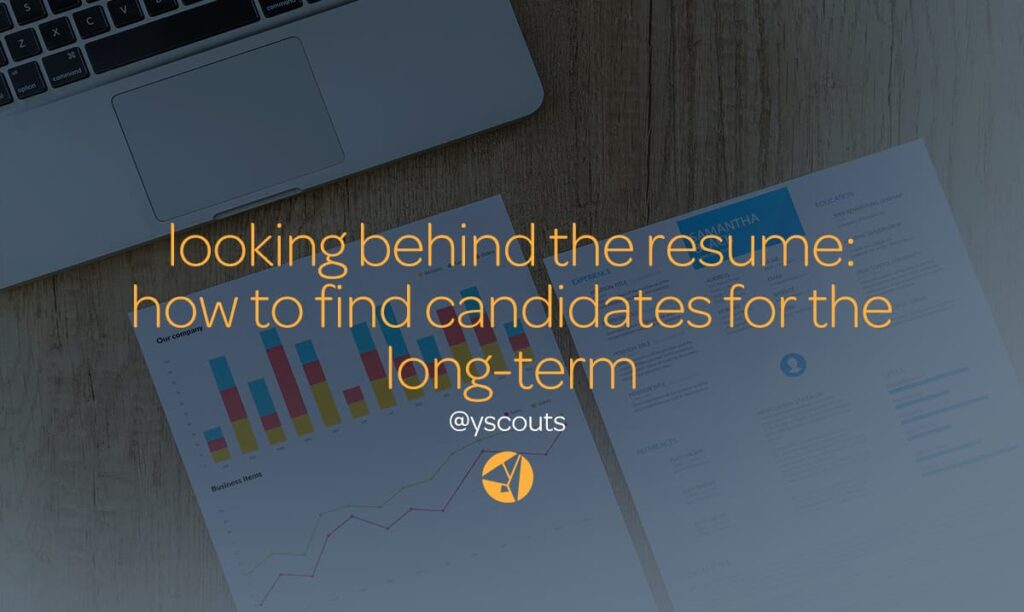 This article by Adam DiBiase, Leadership Search Director at Y Scouts, will discuss the importance of looking behind the resume and how to find candidates for the long-term.
Here in Arizona, every student is required to take at least one course in Economics. I was one of the few students who enjoyed the subject and continued in the discipline throughout college. One area in the field I particularly enjoyed was behavioral economics and game theory. Essentially, behavioral economics is the study of why people make decisions the way they do. This is particularly when the decisions are less than fully rational or there are multiple parties involved in a group decision.
As I've built my career in recruiting, leading our practice area in the HR/People and Culture space for Y Scouts, I've thought back on my research in behavioral economics. The conversation between hiring managers, candidates, and recruiters (both internal and third party) naturally creates incentives for inauthenticity. From factual inaccuracies on resumes to discussions around compensation, each party in the hiring process can behave as if sitting at a poker table, never disclosing their true motivations or intent.
The problem with treating hiring as a game is the health of a company and the fulfillment of an employee's work life are the stakes in play. As a result, this process encourages short-term gains in the place of long-term satisfaction for all parties. Is it any wonder why so many hires move on within a year or two of joining a new company?
At Y Scouts, we've pioneered a covert approach prioritizing the long-term and discouraging each side from bending the truth. As I like to say, we don't play games, and we're not going to allow you to play games either. Here's how we've done it.
Fanatical Preparation with Clients
Before we launch a search, we begin with an in-depth research process to understand our partners and what they're looking for in a leader. Job descriptions never tell the whole story, and many times, there's more flexibility in what companies will consider than the "Desired Experience" section of a description. Through an improved role definition process and a strong understanding of the company's culture and values, we gain a stronger perspective on what the right leader looks like, in all dimensions.
Covert Discovery with Candidates
We never reach out to potential candidates with every detail regarding the company we're partnered with, the job details, or advertise the positions online. Instead, we focus on getting to know leaders at their core. Treating candidates as human beings with interests and skills beyond a resume allows both sides to uncover the reason behind existing career dissatisfaction and what a better opportunity may look like. If the candidate's version of their ideal next step isn't aligned with our client's role, we don't move them forward no matter how solid they look on the resume. In the long term, they would be unlikely to remain happy in that role, even if the grass may look greener on the other side. When it's a strong fit, we also get to know that as well and can share with both sides why we believe this is the right opportunity.
Aligned Incentives as a Neutral Third Party
The dominant pricing model in leadership search is based on a percentage of the selected candidate's first-year compensation. This encourages recruiters to submit candidates at the top end of a target pay range or to encourage clients to expand their range and hire a more expensive candidate. In many cases, the recommendation is reasonable based on the market. However, it is challenging for clients to know whether they're receiving honest advice.
Instead of percentage models, we price our search work on a flat fee basis. This allows us to make a projection based on the difficulty of the search and the anticipated work that goes into finding the right leader. When we communicate to our clients a need to adjust their pay range upwards, they know that our firm sees no benefit as a result.
These practices are uncommon in our industry, but it's why I believe in the Y Scouts methodology for hiring exceptional leaders. Expecting all sides to be fully transparent is unrealistic when everyone's incentives are different. Instead of hoping for honesty in the hiring process, we have found success by changing the nature of the incentives and reducing opportunities for inauthenticity in the process. The result of these steps is a fully human hiring method recognizing the importance of everyone's needs and diverse perspectives. Finding win-win solutions continues to fuel success for our clients, candidates, and our firm as well.
Adam enjoys finding and engaging the right exceptional leaders who will deliver significant value to our clients. He is motivated to search far and wide to discover the needle in a haystack – the right leader who can make a huge difference for years to come.
---
Y Scouts is a purpose-aligned, performance-proven leadership search and development firm focused on transforming how people and organizations connect to work that matters. When you're ready to hire a new leader, Contact Y Scouts. If you are looking for your next leadership role within a purpose-driven, performance-focused organization, please join the Y Scouts Leadership Community.