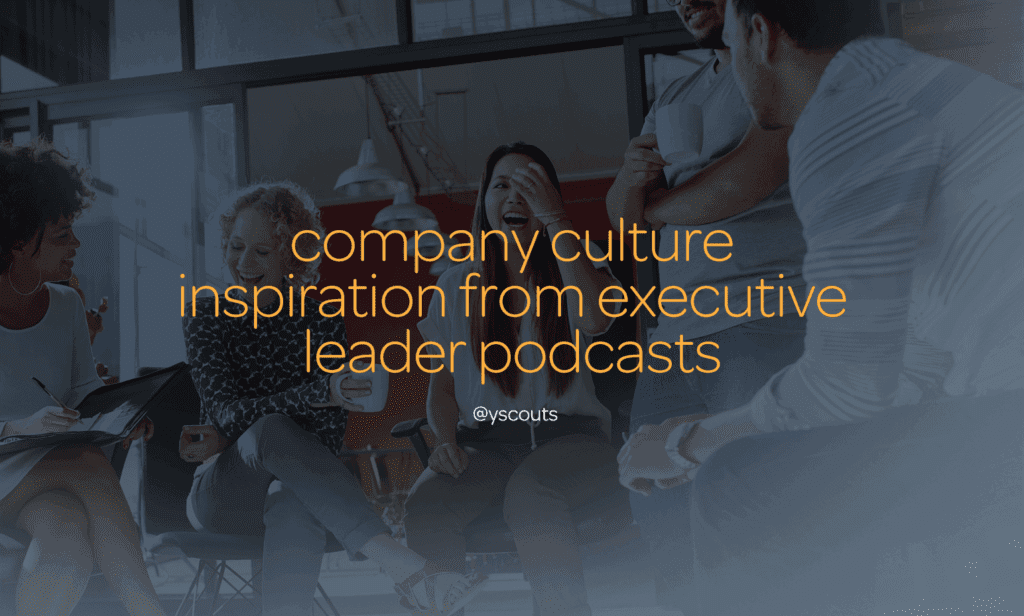 Some of the most desirable company culture examples come from leaders who have firsthand experience with what works. And, often more importantly, what doesn't. Some of these cultures truly soar as Southwest and JetBlue, while others are electrifying like TASER International, now Axon. Take a look at some inspiring, well-formulated company culture examples and podcast interviews with the leaders behind the culture.
Company Culture Examples & Podcasts
Here's my take on hospitality, and this is what I tell a lot of the new leadership and it's very simple. Take a circle and cut it into 3 equal pieces. You've got quality products, you've got technically-sound service, and you've got connections with the guest. Start with quality products — essentially manufacturing. We take raw materials, add some value to them, plate them, and sell them for a profit. We have total control over the raw materials we're using, and we don't compromise on quality. So, our team members have a high level of pride in what they're serving and they care about it.
The second piece to this puzzle? Technically-sound service. Our training keeps getting better and better, giving you the skillset to do the job effectively. It's kind of "hit the ball and run to first base." Take the order correctly, enter it into the computer correctly, deliver it correctly, make sure the guest doesn't feel like they're in a business transaction. We have smooth, smooth service.
The third piece, the connection to the guests is our obligation, responsibility, and pleasure to raise someone's vibration. And I tell the team all the time when someone comes to visit us, we're going to get them for 50-70 minutes at lunch, maybe 75-100 minutes at dinner time. And, they're coming in and life's tough, they have a flat tire, their kid got bad grades, they've gotta get a root canal, and who knows. Life's just up and down, and it's our job to have them leave in a better place than when they walked in.
We need to raise their vibration in a positive way. This takes creating those moments to recognize them, make them feel important, and find ways to interject them with positive energy. And the staff asks, if we keep giving our positive energy away to our guests, aren't we going to be depleted? And I say no, that's really the most fun thing about this. The universe rewards you with more positive energy when you give it out, at a ten X level. So, when someone visits us, yes — we're going to provide you with great quality products, yes we're going to give you smooth service, and more than that, we're going to give you connections.
Leadership is collaborative, team-focused and culture-focused.
I don't think there's any such thing as a "work self" and "outside work self." So I just call it "life." Obviously, our smartphones keep us connected 24/7 to what's going on with each other. I love that. Yes, we need an appropriate balance so that we pay attention (both to work and to our family). That's why we use that message while building the culture in the company to say that we're going to incorporate home and work together. Whether it be the quarterly newsletter we send to the homes of our employees with coloring books at the end for the kids to fill out. Or on Family Day, where we would bring in carnival rides to the parking lot and invite the families to come and participate. Or the annual contest for the T-shirt design that came from kids participating.
We're there to not only be their work life, but also in many cases to be their social life. We're in a call center with a lot of single moms, people making $29,000 or $30,000 a year living paycheck to paycheck. The least we can do is show that we care about them and also involve their families. Some of their best friends and relationships are with people at work — so let's have Movie Night and get people together. We encourage people to socialize with each other.
The person who's 100% focused on work, who comes home and perhaps doesn't fully pay attention to what the kids are saying, and your spouse saying, "Snap out of it!" — that means I don't have the correct balance.
The truth of the matter is, I don't own our culture at HubSpot; the employees do. And our candidates do, our alumni do. They set the tone of the vision, they keep our energy high, they hold us accountable. The way that I think about it is, I'm responsible for employment brand globally. And when you're growing as fast as we are, especially internationally, that's critical to the growth of your business. For example, we just opened our Tokyo office. While we have a massive employment brand in Boston, and now in Dublin (where we have over 200 folks located), we don't have that in Tokyo. How do you share your story in a way that's authentic to Japanese culture and also to HubSpot culture?
I work really closely with our recruiting team on thinking about, planning for and launching new offices. Once those new offices open, I spend a lot of time working with our employees on the ground there to understand what works, what doesn't, and truly how we scale culture as a competitive advantage. For example, our team runs every touch point of the employee experience. So when you think about the handoff between recruiting to onboarding to becoming a successful employee, we spend a lot of time making it feel truly welcoming. On my team, I hire a lot from the hospitality industry, instead of traditional HR. We really want the employee experience to end up similar to a guest experience at a high-end property.
We also run some pretty key priorities for the company, which include our Employee Happiness Survey once a quarter, our Diversity & Inclusion Initiative, our Nonprofit & Community Initiative, and a whole host of other great stuff. I was wrong to worry that there wouldn't be enough work. As it turns out, when you're creating global-scale, the "soft stuff" and kind of gray areas of your business truly become the "hard stuff" and so having someone whose job it is to fill in those gaps makes a big difference.
I always think there will be a better model for anything. Anytime you get to be a part of a great organization, you know that "great" is a moving target. Great is defined as the latest experience someone had. But tomorrow it might be different.
I used to say New Yorkers didn't love anything, and now they love JetBlue.
The result was that 17,000 people today are part of the organization and they all live and breathe the values. You always have some negatives, but it's how you recover that counts. We recover with the values, like we live using the values.
We live the values whether we're handling a tough problem or just an everyday issue. Those five values are critically important to us. We sat in a room and defined those 17 years ago. And we asked ourselves what we wanted people to say about us. What did we want in terms of hiring people? We also hire people with those values. It's really important that when you have a values-based organization, you don't just put the words on the wall and think that becomes the culture.
You have to work at it 24/7. You have to work at it on a continuing basis. Whether you're a year old, six months old, or 25 years old. You have to continue working at it if you think it's going to stay alive and well. It does have to become a part of the DNA.
Two of our values are own it and join forces. In some ways, these are opposing values, where you really want people to own it, commit, take action, and deliver. I think that's really one of the defining measures of success and execution — somebody taking ownership. It's magical what happens when you have really execution-oriented people. We've got a very performance-based culture here, where people are directly responsible individuals. They raise their hand and say, "I've got this and I'm going to take initiative."
They're the owner, and they see things through to completion. That's why we've seen tremendous growth over the years.
Over time, we became slaves to one particular place to sit and stare at a tube. Whereas whether digitally or face-to-face organically, we see that coming around again. We believe the best companies recognize this need to create culture through place. Culture is what will ultimately drive the innovation they need to compete. You can see this at places like Facebook. You see companies that realize the importance of places providing sort of strange attractors for the talent they need.
I think some people still see their places as a cost center, rather than as an asset. The companies that do, will win the war for talent—and a great example is Commonwealth Bank in Australia. It's completely fixated on how the places prove one of their most valuable assets for not only attracting people, but for helping their people become as productive as possible. That's in some ways the opposite of what most of us think. And that's by creating spaces that makes them absolutely want to be there, because they find the other people that are there are inspiring to them as well.
What other company culture examples would you add to this list? Let us know — and to find great people that contribute to a top-notch culture, contact us today.
---
Y Scouts, a leadership search firm, finds purpose-aligned as well as performance-proven leaders to help organizations achieve their missions faster. Ready to supercharge your leadership search and get the right person in your organization? Contact Y Scouts.