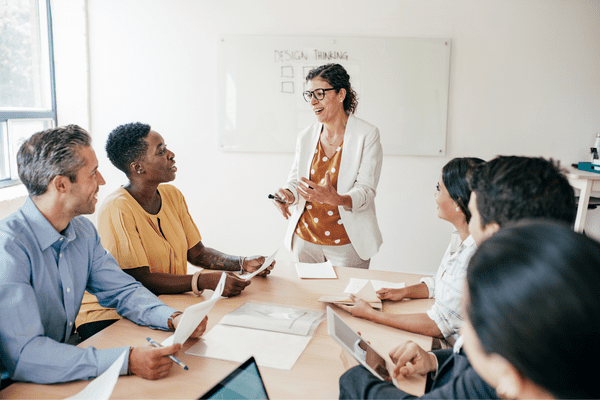 The recruiting market may be competitive in general, but the executive recruiting space is extremely competitive.
Here's what the experts at CFO had to say about the state of the C-suite hiring markets in a recent article:
Regardless of age, a majority (61%) of executives said they missed pre-pandemic work styles, with new environments making the CEO's job "harder in just about every way." About 40% of C-level leaders said the stress from their work is so immense they'll likely quit within the next 12 months [in 2023].
Those are some eye-opening statistics. The competition will be fierce to recruit executive leaders with that level of turnover, and you can't afford to get it wrong.
Mistakes in C-level hiring will cost you time and resources you can't afford to waste.
Here are the top mistakes businesses face when searching to fill c-suite roles:
They do not acknowledge the crucial importance of executive recruiting and the significant stakes involved. It's vital not to underestimate the complexity of the task at hand.
They do not take the time to understand the challenge. Ask your team why finding the right C-level leader is so important?
Unrealistic time-to-fill expectations and other external stressors from the executive team, the board, investors, etc. impact your ability to find the right candidate.
Most HR professionals and hiring teams simply don't have access to pruned C-level talent pools. Executive searches are a rare occurrence.
At Y Scouts, we always advise our clients to step back and put their situation in perspective before forging ahead with the search process.
You need to examine where you've been and where you're going with respect to corporate leadership. Ask yourself some questions. What caused the current vacancy? What can we learn from the circumstances that caused the vacancy? How can we learn from the past and get the hiring process right the first time? What is your why?
An executive search and recruiting process is too important to rush. So it's time to step back, create some white space, and assess the situation. Take an objective look backward and then look forward to an informed decision on the ideal candidate.
What does exceptional, exemplary C-Level leadership recruiting look like to your organization?
If you can`t describe what you`re looking for in your next executive leader, you won`t be able to find the right candidate. Take the time to do a meticulous, objective analysis of what qualities you want in your next C-suite leader.
Do you have a fundamental understanding of exactly what you're looking for in your leadership candidate? Sometimes we all get caught up in our own forests and can't see the trees as a result.
If you're going to expect to hire the right candidate, you'll need to do some soul-searching. Remember, we're not filling a position. We're finding the right person to lead and grow an essential piece of your business.
Your current circumstances and future plans will have a significant influence on the type of leader you're looking for.
Your corporate culture will have an enormous impact on your ability to attract and recruit top executive talent, as will your corporate values. You want to make sure you're recruiting a cultural fit who shares your business values.
With game-changing talent, the candidate will be analyzing you and your company as much as you will be analyzing them. Put yourself on the candidate's side of the table. Ask yourself, what are they looking for and are we the right fit for them? That's part of the pre-vetting process when you engage with our team. We want to make sure that when it's time for an interview, there are no surprises.
Exceptional leaders must have credibility and trust across their teams and peers. That means courage and integrity under fire are must-haves. These, and other, intangible qualities can be difficult to gauge without a pre-established relationship with potential candidates.
You need a trusted partner with those relationships.
It will take a group of extraordinary leaders to create a culture of employee and executive-level engagement, satisfaction, and motivation to address these challenges head-on. Finding those leaders can be difficult without the right strategic recruiting partner, the right pool of candidates, and a recruiting process with a track record of unparalleled success. You'll also need a "challenge" mentality.
Creating a challenge mentality in the executive recruiting process—How can you challenge your current leadership team and the candidate?
This is the part where leadership skills meet business acumen. Leadership skills acquisition doesn`t happen in a vacuum. The kind of leadership you need has been forged in the fires of lived business experience.
We encourage hiring managers and teams to challenge their executive leadership to compile a wish list of attributes for the new executive.
You've challenged your leadership team, now it's time to do the same to the candidate. Remember that all great leaders love a challenge!
Instead of 20 bullet points in your job description, we recommend using questions and statements that generate curiosity. Here are a couple of simple examples: "Can you channel your capabilities to build exceptional teams that achieve exceptional results?"—"Can you build and lead a team of exceptional leaders?"
Once you've challenged your team and created creative descriptive language to entice the candidate, it's time to start the search. With Y Scouts, this is the fun part!
What does a successful executive-level recruiting strategy look like?
You need a team of professionals that has seen the recruiting challenges you're facing and have solutions. It takes a team with focused expertise in executive leadership recruiting and an impeccable track record.
It takes these levels of results-based outcomes exclusively in C-suite recruiting:
92% Success Rate
90-day Average Fill Rate
6-month Guarantee on Executive Placements
An industry-high response rate of 30% from top-tier leadership candidates with our unique, authentic outreach
Since 2012, the Y Scouts Hiring on Purpose model has resulted in hundreds of long-standing executive placements and landed us a spot on Forbes list of "Top 100 Executive Search Firms".
Is it time to engage with a trusted partner exclusively focused on C-suite recruiting? Or maybe you just have some questions. Wherever you are in your executive recruiting journey, we can help. Get in touch with our team today.