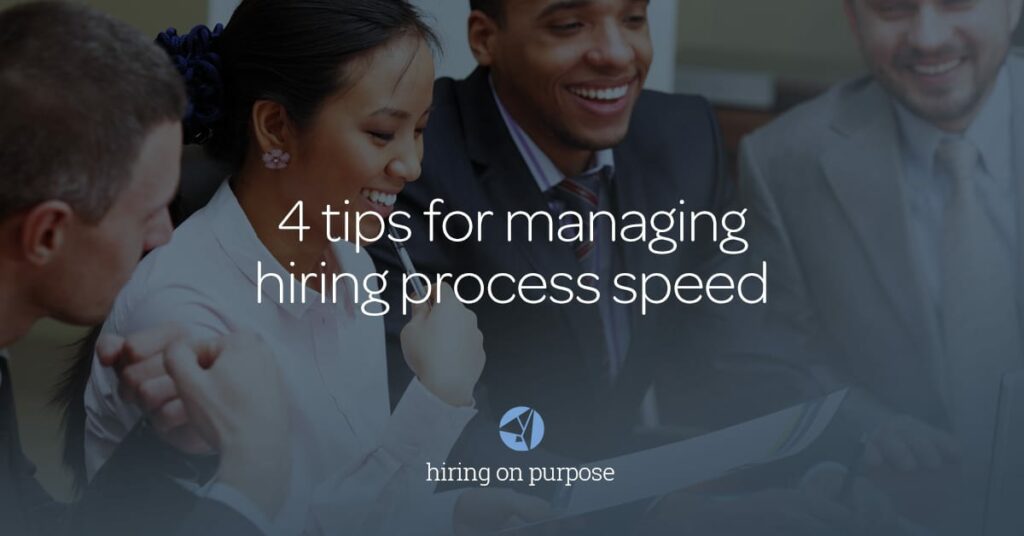 For most organizations, the need to hire isn't part of a long-term succession planning strategy.  It's a result of a promotion, resignation, or termination; a consequence of poor talent management delivered through the HR function; or the outcome of faster than expected business growth (such a nice problem to have!). Regardless of the reason, the upshot is that for clients, hiring is always urgent. It needs to happen and it needs to happen fast. At the same time, hiring leaders are constantly faced with multiple competing priorities and process stagnation that introduce delays in hiring. These competing dynamics must be managed mindfully and with purpose to avoid hiring mistakes and top talent lost through hasty or lethargic processes. The following tips can help you deliver a better candidate experience, arrive at more informed hiring decisions, and convert offers to hires.
Talent Acquisition teams should track the amount of time candidates spend in the hiring process. This data point is a better reflection of process health than traditional time to fill measures. A too lengthy hiring process delivers a poor candidate experience, representing your organization as unable to make decisions and making it appear to candidates that they may be a runner-up, kept on the sidelines until hiring leaders make a decision on another candidate. For passive candidates who are not actively looking to make a change, a sluggish process leaves them open to predation by other opportunities. As a result of considering your opportunity, passive candidates may hasten the pursuit of a promotion, raise, or other growth possibilities in their current organization. Their curiosity about the talent market ignited, they may begin exploring options with other employers.

When launching a hiring process, clearly articulate who will be involved in the interview process before going to market for candidates. Make sure that everyone who needs to be a part of the process will be available. We've all heard the adage "Time kills all deals" and it's true. If your vacation or annual conference will introduce calendar complexities that make it difficult to get candidates scheduled for interviews, you should reschedule the hiring process launch. If other business matters will require more investment of your time or will eclipse this hiring process, delay the hiring process or rearrange your other obligations. As a hiring leader, hiring for this role should be among your top three priorities.

Have a clear shared vision for what success your new hire will drive. Your Talent Acquisition team should help you by providing an assessment model based on clearly defined organizational values and functional competencies. Use that model to craft a vision of your ideal candidate so you'll be prepared to hire them when you find them. If you don't know who you are looking for, you won't recognize them when you see them.

Hiring leaders should be aware that, while you are assessing talent through the hiring process, candidates are also assessing you and your organization. Give them ample time to get to know you and the team they'll join. We know of an organization that recently made an offer to a candidate on the spot, in her first interview. The candidate met only one person, wasn't given a tour of the building, and met no one else from the team. Of course, she declined the offer. She became wary of how other critical decisions would be made at the organization. Candidate and employers need time to bond; to know and be known by one another.
Hiring is a balance of art and science, speed and diligent investigation. Being aware of these dualities and adopting mindful practices can help you strike just the right balance to give you and the candidate you add to your team confidence and enthusiasm for the partnership ahead.
–
Tasha Hock loves connecting people and organizations to work that matters. As a Leadership Search Director at Y Scouts, Tasha leads the Manufacturing, Operations, Non-profit and Social Impact practices. Gifs are one of her love languages.
Join the Y Scouts Leadership Community and be part of our mission to connect 10M people to work that matters!
#yscouts #workthatmatters
---
Y Scouts is a purpose-aligned, performance-proven leadership search and development firm focused on transforming how people and organizations connect to work that matters. When you're ready to hire a new leader, Contact Y Scouts. If you are looking for your next leadership role within a purpose-driven, performance-focused organization, please join the Y Scouts Leadership Community.