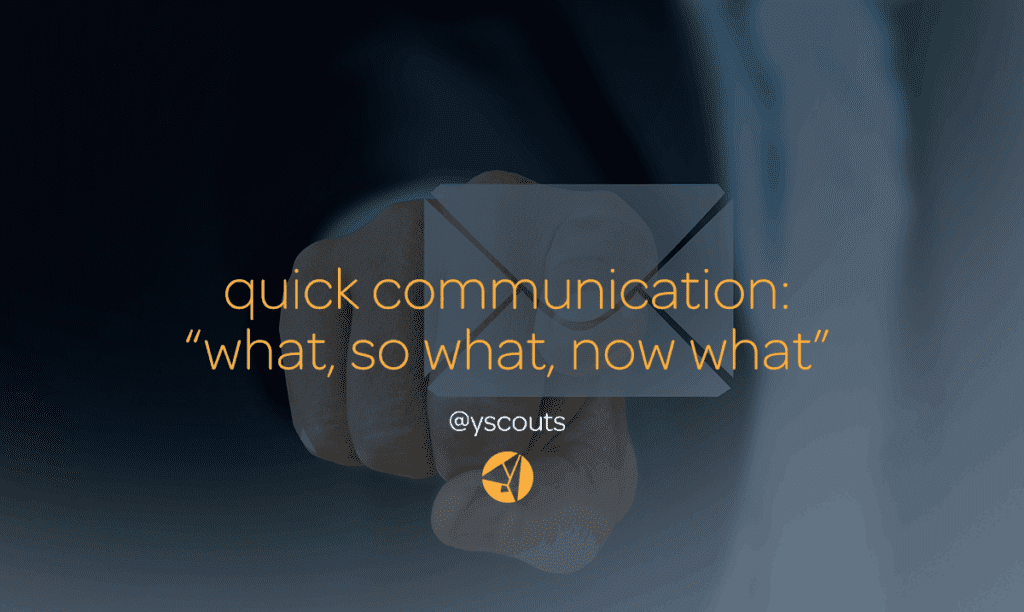 As James Humes, a speechwriter for five Presidents, once said, "The art of communication is the language of leadership."
As I've progressed in my career and development, I consistently used a little guide that helps me communicate efficiently and I'd like to share it with you. Hopefully, the below framework will be another tool in your toolbox for communication, especially when delegating or asking for help.
I'll go out on a limb and assume you've been the recipient of context-deficient communication …maybe an email along the lines of:
"Urgent: See the attached deck, ensure accuracy and update if needed"
If you're anything like me, you want to help. However, without context, it's hard to be quick or accurate (aka valuable) in our response. While brevity is appreciated, an incomplete "ask" leads to unclear expectations, missed opportunities and a slurry of "wait, what?" type questions.
Let me introduce the "What, So What, Now What" framework:
· What (X) – What's happened/happening?
· So What (Y) – Why is this important?
· Now What (Z) – What needs to happen next?
Here's an example:
"Team,
(X) Thank you for your hard work this week! We've been asked by Lauren to provide an update on [project].
(Y) This information will be included in the deck (attached) that Lauren will present to Senior Leadership on Tuesday. This is an opportunity for us to showcase progress we've made as well as highlight areas where we need more support.
(Z) Please review and ensure slides 4 and 5 are updated by 9 am on Monday so we can review as a team. Reference data from ABC and be as accurate as possible – let me know if you have any questions or need additional context."
The extra minute it takes to craft the above communication ensures that the recipient understands why this is important, who it impacts and manages expectations on the timeline.
The framework can also be used for brief, informal communications, even texting.
(X)Team Happy Hour at The Henry to celebrate Javier's first day – (Y) seating is limited so (Z) text if you'd like to join, we'll be there until 6.
That's it – easy to remember, quick, clear and manages expectations. Give it a try and see if it works as well for you as it does for me. I hope you enjoyed the post and if you have ideas for future blog topics, feel free to connect with me on LinkedIn and shoot over any ideas.
Looking forward,
Daniel takes pride in providing value through building honest, authentic relationships and digging in deep to understand and address the needs of a business. He is proud to work with the Y Scouts team and contribute to the continued success of our clients.
---
Y Scouts is a purpose-aligned, performance-proven leadership search and development firm focused on transforming how people and organizations connect to work that matters. When you're ready to hire a new leader, Contact Y Scouts. If you are looking for your next leadership role within a purpose-driven, performance-focused organization, please join the Y Scouts Leadership Community.