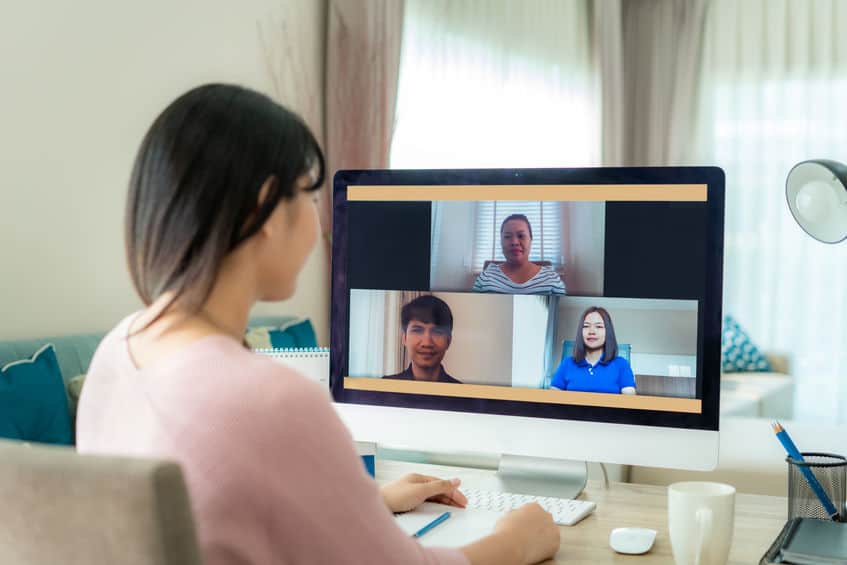 So much has changed in the business world since the pandemic turned the world upside down. You may have been working at a firm that is all virtual, with video chats and phone calls the norm. Or, perhaps it's been the hybrid model, with some time in the traditional office balanced with work at home.
These types of changes have also been a part of the world of executive interviews. Although it might have seemed like an impossibility a few years ago to conduct a top leadership interview online, now it's commonplace.
This poses a question: which way is the wind blowing concerning executive interviews? Several experts we saw quoted in a story for the SHRM website believe that the hybrid model will also be the way to go in the future, so leaders who have to hire virtually should get used to maximizing their efforts.

The Best Elements of Virtual Interviews 

There are certainly some advantages to virtual interviewing. The article points out that in makes the hiring process more efficient, and it can be a boon for candidates who already are employed. For one, securing time off might not be necessary.
Colleen Garrett, SHRM-CP, a recruiter at health care staffing firm Clipboard Health, headquartered in San Francisco. "Once a call is over, the call is over," says Colleen Garrett, a recruiter for Clipboard Health quoted in the story. "When interviewing in person, you have to account for the potential for someone to be late and other interruptions or obstacles that happen in the office."
It can also be a plus for positions where multiple rounds of interviews are needed, a common occurrence for executive interviews. If the interviews are for companies with far-flung locations, it can also be less of a logistical issue.
Then there is the idea of recording the interview. While in some ways this could put a candidate at a disadvantage — if the interview wasn't as solid. It's also a great opportunity for training recruiting teams or giving other key employee stakeholders the chance to see the candidate and weigh in on hireability.
What's Missing When You Use Video
When it comes to genuine engagement, though, nothing really beats a face-to-face interview, according to some of the experts interviewed in the SHRM story.
"For roles that require strong social skills, such as client-facing or senior leadership positions, employers may want to meet candidates face-to-face," says Peg Buchenroth, senior VP of HR at staffing firm Addison Group. "In-person interviews offer a higher level of engagement. You can read body language better and get a better sense of someone's interpersonal skills."
It may also be better for roles that require testing or demonstration of skills, to ensure that the task is truly completed on the spot.
Another negative: set up. As the article discloses, setting up an interview with all of the involved parties — the candidate, bosses, maybe even an internal stakeholders panel — sometimes becomes a game-within-a-game, with the potential for rescheduled or canceled appointments.
One major variable that likely you've experienced is the technology's reliability. Since many of the team-based collaboration tools weren't created strictly for job interviews, it can be problematic.
"They'll cut out on you, or there are Internet connectivity and bandwidth issues or video processing issues," says Matt Duren, senior manager of talent acquisition at Tenable Network Security, in the article. "You then have candidates being evaluated on the ability to maintain a video interview, which has nothing to do with the job itself."
Sure-Fire Executive Interviewing Planning
An article in Forbes also cites some of the issues with virtual executive interviews that actually could apply to in-person ones as well. Here, the author describes some of the complaints from job candidates that are being shared online in this more robust market. As it turns out, a lot of it can be solved with human interaction being strengthened, whether it's with online or virtual interviewing.
One technique that may help overcome objections is to set clear expectations at the start of the interview process. If the candidate knows how many interviews may take place and their length, you may get more relaxed and forthright answers.
In addition, the author makes the case that you talk about salary, bonuses and benefits before interviews begin, just so there isn't an objection at the last minute and any concerns can be addressed before everyone's time is spoken for.
Among the other suggestions are to train managers on how to better interview people. If your company doesn't have this type of staff training, make a point to establish such a program. it should include tips on effective interviewing, how to navigate the entire process, and how to both extend an offer and onboard candidates.
At Y Scouts, we're adept at providing interviewer training. This means we help business leaders build skills and develop capabilities that work well during interviews. It's an approach that aligns with your company values, addresses critical issues such as diversity and inclusion, and helps with the process. The result is that the feedback hiring leaders receive is impactful.
Visit our website to find out more about how we can help you find the best talent for the job at hand.