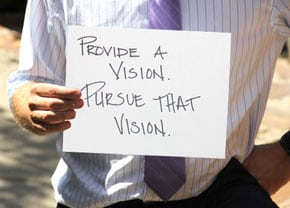 What are the top attributes, characteristics, and traits that make up an exceptional Executive Director?
As a leadership search firm that finds breakthrough Executive Directors for nonprofits, we've had unique experiences and perspective on this question. We interview executive directors for breakthrough leadership opportunities every day.
What have we found? And, perhaps more importantly, what do the nonprofit leaders in the Y Scouts Leadership Community say make an Executive Director "exceptional?"
Here's what our executive nonprofit recruiters and leadership community had to offer about the ten attributes of an exceptional Executive Director.
Authenticity. People respond well to others who don't try to hide who they are. Executive Directors are no different. You could have lunch with an Executive Director and be at ease. Exceptional Executive Directors encourage their nonprofit staff to be themselves.
Self-awareness. An effective Executive Director is aware of their actions and reflect on decisions without any bias. They invest in themselves and put in a lot of effort to use their strengths to the max.
Relentless Learner. For most Executive Directors, the learning never stops. They attend events, independently go online and research topics, and are driven to understand how things are done.
Focus on long-term results. Executive Directors don't waste precious time worrying over the temporary setbacks. Their focus is always on the long term, and know that patience yields results in the long run.
Productivity Driver. Executive Directors examine trends and developments among the staff to influence and create an environment that works towards the nonprofit's mission.
Inspires Others. If an Executive Director can't inspire others, then volunteer development, fundraising, the Board of Directors, and nonprofit staff won't be inspired to serve the mission either. Everything starts at the top.
Community Presence. An effective director builds and gains their personal and organizational presence on the local level. They're the face of the nonprofit, and managing that brand directly lends to the success of the organization.
Relentless Recruiter. Almost half of all time an ED spends is spent recruiting. By recruiting and empowering volunteer leaders, the organizational mission is collectively achieved.
Fundraiser. Some ED's don't like to fundraise. The exceptional ones are fantastic fundraisers. They support the fundraising efforts by cultivating and nurturing all relationships – not just the ones that are considered to be "major."
Leads the vision with purpose. Above all, the executive director is able to communicate a compelling and inspired purpose. When they talk, it's always about beyond today. They talk about possibilities in an optimistic way with real measureables to ensure the vision is achieved. They lead, inspire and motivate by simply sharing their vision.
[fusion_alert type="general" class="custom-fusion-alert-grey"]Y Scouts is an executive search firm that helps nonprofits and social enterprises find exceptional leaders. Contact us if you are looking to find an exceptional leader. To be considered for exceptional leadership opportunities with our clients, please take the first step by joining the Y Scouts Leadership Community.[/fusion_alert]