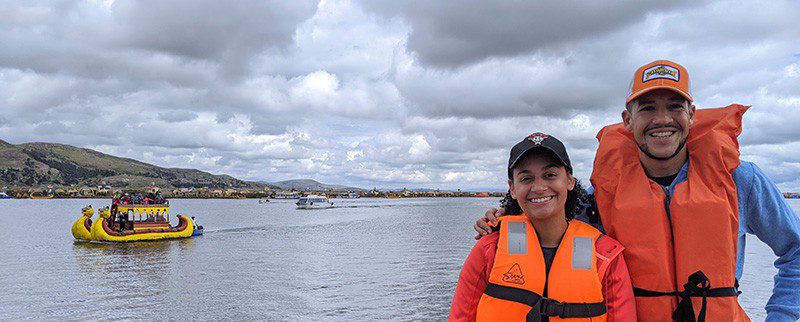 I spent February of this year working remotely in Lima, Peru. What I thought was a chance to wear soft sweaters, eat ceviche, and live my best life in South America, was actually an opportunity to experience how our company culture extends far beyond the four walls of our Scottsdale office.
Work that matters from anywhere (#WTMFA) is a popular tagline and group chat hashtag at Y Scouts. We're lucky to do work that is location flexible as we support clients across the United States—from California to North Dakota to Florida—through video conference and VoIP.
A survey of 3,500 remote workers by AngelList and Buffer shed light on the biggest perceived benefits to working remotely and the ability to work from anywhere came in as the second most popular response. 
Why Lima?
My significant other has family in Lima and spent a few consecutive summers living with his cousins after graduating high school. It holds a special place in his heart and a short 7-10 day trip is not enough time to spend with family you only see once a year at best. 
I'd traveled to Peru once before and loved the idea of a month immersed in Spanish, living like locals. I learned it's difficult to keep Spanish top of mind while communicating in English during the day, but the intention was there!
Planning
Preparing for one month abroad began at least six months before I boarded the plane to Lima. If possible, I'd recommend planning one year in advance. I first pitched the idea to my senior leader, who then requested I put my proposal on paper. 
By the end of the planning process, my Google doc contained dates (including a breakdown of workdays and PTO days), a screenshot of the wifi speed test at the Airbnb, a list of coworking spaces near the apartment as a backup, and a few to-dos around communicating the plan as we neared my departure date.
The only thing that caused me mild anxiety before leaving for Lima, was technology-related. A few months before leaving, I switched my service provider to Google Fi for international data and phone coverage. The nearby coworking spaces and hotels offered me comfort in a wifi backup plan, and Y Scouts uses wifi-based VoIP service, so I knew my work phone would work over the wifi.
Working
Initially, I proposed one week of PTO in the middle of the trip to allow for exploration. In order to cut down on interruptions to the team, I changed my PTO request to Fridays and Mondays. The final breakdown equated to 12 workdays and 5 PTO days, with no more than three days in a row.  
My day to day routine while working from Lima, with the exception of the scenery (we were five blocks from the ocean) and my office teammates, mirrored my routine back home. I held client updates via video, phone interviews, and even attended the team happy hour virtually. 
I learned a few things in hindsight: 
Schedule travel on the weekends to give yourself time to adjust

Proactively block out time to eat if you're working on a different time zone (Lima is on EST, while most of our team works on MST) 

Be flexible with the hours you work to accommodate the time change 

For two people working from the same living space, look for accommodation with two tables or a table and a desk, so you don't have to utilize a bed or surface that is not ergonomically friendly 
Reflecting
It took a while to adjust to the reality of waking up and starting the workday in Peru. A remote trip was something I hoped to do, but it felt like a luxury that was further down the pike of my career. I spent most days working in Lima, but utilizing scattered PTO days allowed me to venture out of the city. Trip highlights included four family dinners, sleeping on a floating island in Lake Titicaca, and taking a 10-hour train ride through the countryside. 
At Y Scouts, our WTMFA culture offers a human-centered approach to work/life integration. The desire to align leaders and clients is baked into our company DNA. Even without a written policy around remote work, the WTMFA tagline reminds us to ask for what we need to drive the biggest positive impact. 
The time I spent abroad helped me see my work and Y Scouts from a new angle. I'm grateful for the opportunity to align purpose-driven leaders with mission-driven clients from any corner of the globe (as long as there's strong wifi).