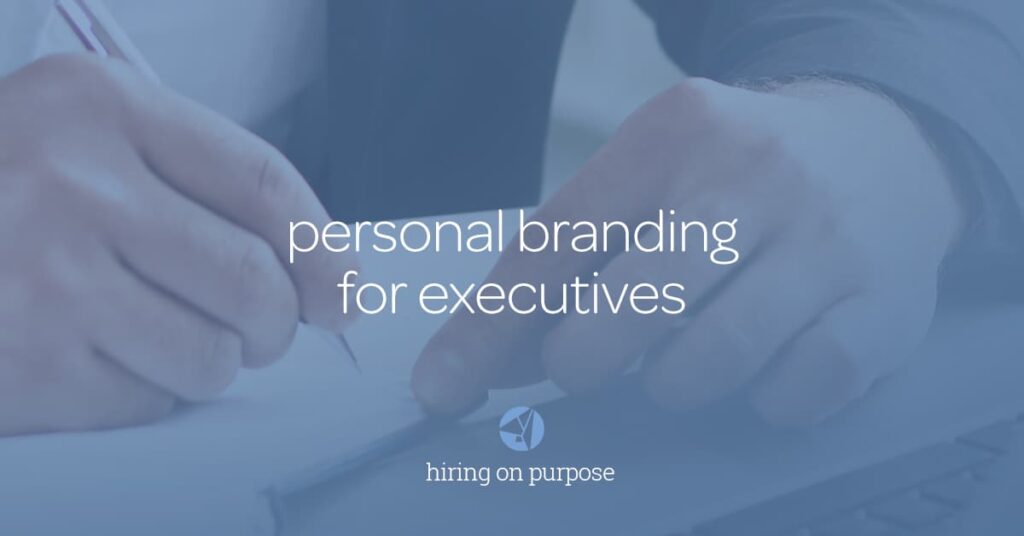 For someone in an executive position, the importance of personal branding cannot be overstated. Your personal brand can say a lot about your personal values, what you're like to work with, and what skills you bring to the table. This article will also include tips and best practices for personal branding.
What is Personal Branding?
Personal branding helps to distinguish you from other highly-qualified executives and helps define the distinct role that you see for yourself in the workplace. Personal branding is in-part what people know you as the go-to person for regularly. It is similar to an impact statement, but for yourself.
Personal branding is not shameless self-publicity and ego-stroking, nor is it merely a brand statement listing functional areas of expertise. Even as an executive, a personal brand should present your values and not aim to make you famous. With a good personal brand comes the credibility needed to move your career and organization forward.
A strong personal brand's impact on your company
According to Forbes magazine, an executive's personal brand reflects on their organization. If an executive, such as the CEO, has a trustworthy and credible brand, this can lend a level of credibility to the whole company.
An executive with a strong personal brand can also help pitch ideas, such as marketing campaigns, to outside companies. If the executive has been in the media before or is known to have a unique or insightful perspective on an issue, other companies are more likely to want to hear from that person.
Additionally, when an executive of a company has a compelling personal brand, others begin to notice and want to work for them. This means that applications and resumes will start piling up. The company will have to have a sufficient background check process in place, being that there will be a variety of applicants.
Roadmap and best practices
Here are some steps to take when defining your persona:
Identify your strategy – what do you do well?

State your values

What are you known for?

Be personable/fun

Don't be afraid to state your opinion


Set up your infrastructure – a list of different tools you can use are listed below.
SEO and email campaigns
While these are not the big end products that help gain recognition, without SEO and email campaigns the other tools listed below will not get the attention they deserve.
Email campaigns such as offering free whitepapers, downloads, or discounts, if your or other companies allow you to provide them with, can be a great way to extend your reader's free information and get them to follow you. SEO and search terms are essential for making sure that you come up in search results when people are researching a problem or trying to find experts to help solve the problem.
Blogging
Blogging is the easiest way to demonstrate your expertise in a field. It also allows you to test out explanations and see what connects with people the best. It is the best way, in the beginning, to get your name out there and gain a following. You can have a blog either on your company's website or your personal website. Though, having it on your company's website can help tremendously with SEO performance.
Writing on a regular cadence is essential, even writing just once a week can be enough. Your articles should also teach your audience something. If you can explain a complicated topic in an easy to understand way, people will want to read more from you.
Speaking
Public speaking is a great way to get recognition in your field. You might start with small talks at local industry events and work up from there. Even a keynote address can get just as much attention as other forms of public speaking when promoted correctly. Use social media and email campaigns to get the word out.
Books
Writing a book on your area of expertise can give you a great deal of credibility. This is especially the case with traditionally published books, but self-published books can be a good starting option as well. Self-publishing also allows you to set the price or even give away free copies. You can also turn your book into an e-book to have control over how you distribute it.
Work for a cause
One way to get your name out there in a positive light is to have your company promote for charities or medical studies. As an executive, you have the authority to pitch a promotion where proceeds go to a cause of your choosing. This will shed light on your values and what you believe in.
A great example of this is Scott and Antonella, founders of FACT Goods, sell cancer awareness hats on their site and proceeds are donated to the Breast Cancer Research Foundation and Make a Wish. This shows they are committed to making a difference and use their brand to prove it.
Personal website
This can be either your company bio or a separate website. If you have a bio on your company's website, you might want to focus on that and then concentrate on building an independent website. Some good things include on your site are:
Academic degrees and Certifications

Awards

Publications

Presentations

Important projects
What do you want to be known for? Include those on your site. Have examples of your work, such as speeches or articles, even videos if you have made any available on your website. This will also give you ready-to-go samples should anyone ask for examples of your work.
For more information on what tools you can use to establish your personal brand, please see Personal Branding Strategy.
Wrapping up
In summary, personal branding is not ego-stroking, it is showing what you are an expert in and what skills you can bring to a team. Whether you are an executive or not, developing a personal brand can help you to further your career. However, as an executive, your brand becomes more important in that you are a reflection of your company and its values.
Creating and building your personal brand takes time to develop, but when people know what areas you are an expert in and what you excel at, that's when you gain the credibility you'll be looking for as an executive.
–
Author Bio:
Emily Banks is a Bay Area Native who got tired of SF's cold beaches and decided to move to San Diego. She is currently the HR editor for 365 Business as well as a digital marketing expert for Arnett Credentials. When she is not typing away on her office keyboard, she can be found eating street tacos in the sunshine.
---
Y Scouts is a purpose-aligned, performance-proven leadership search and development firm focused on transforming how people and organizations connect to work that matters. When you're ready to hire a new leader, Contact Y Scouts. If you are looking for your next leadership role within a purpose-driven, performance-focused organization, please join the Y Scouts Leadership Community.