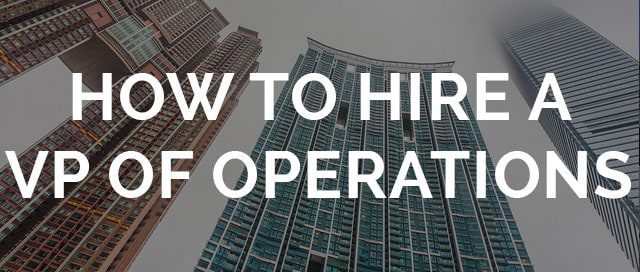 Day-to-day execution and administration of a business are the foundation that helps build exceptional organizations, and the person in charge of these two critical areas is a VP of Operations.
If you've already crossed the bridge of when to hire a VP of Operations and what to look for in a VP of Operations, then the next step in the leadership search process is deciding how to hire a VP of Operations.
There are many ways a senior leadership team can go about finding and interviewing a candidate who excels in certain workplace environments. Here are four tips to use when deciding how to hire a VP of Operations for your organization.
1. Use an executive search firm
Many senior leadership teams excel in specific areas – sales, engineering, finance – but often times operations is not one of those areas of expertise. If hiring a VP of Operations seems overwhelming, consider hiring an executive search firm that specializes in high growth leadership positions. Since recruiters at an executive search firm already have a defined hiring process, they can organize and execute your search while your leadership team can focus on improving and expanding your business.
The staff at a leadership search firm has experience finding, interviewing, and hiring a Vice President of Operations. An executive search firm may know some potential candidates for the position right off the bat, and can certainly vet out the candidates that aren't a good fit. The expertise offered at an executive search firm can be an objective and effective way to find the right person to head up your operations.
2. The Network Of Your Leadership Team
Your senior leadership team has professional connections that may be a good fit for your VP of Ops role. Talk to them. Mention your organization is searching for someone to manage the day to day operations of your organization. Not only may someone in your network be the perfect candidate, but they also may know someone who is interested and can establish make a valuable introduction. This introduction is crucial because the candidate gets a personal endorsement from someone you trust, and your company gets an endorsement from someone the candidate trusts. If in-person networking doesn't lead to any results, try using social networks such as LinkedIn to find senior vice presidents.
3. Don't do it alone
Hiring a VP of Operations is a major decision, and there is a lot of pressure on the future of your organization and customers to select the right candidate. If you're the person responsible for making this decision, the pressure intensifies. In order to make hiring a VP of Ops a little less intimidating, involve other leaders in your company and the people who will be directly impacted by the hire.
Other executives, mentors, and trusted colleagues can all be a big help when you're learning how to hire a VP of Operations. If your company currently employs customer service representatives, make sure they play a major role in deciding who will be their future boss. Other employees have unique insights on the role, which helps refine the search process and attract the best candidates, and their perspective can help you get a well-rounded view of the situation.
4. Plan Ahead
If executed improperly, an addition to your senior leadership team and organizational processes can be jarring. Make a plan for your company in order to help your new VP of Operations adjust to the position. Work with your current customer service team to decide what course of action will be best for your company. For example: should your new VP of Operations jump into the position right away with their own processes? Or should a vice president of operations step into an existing organizational process and focus more on the execution? Granted it's hard to plan ahead when there is a lack of expertise in the room, but by having a plan before hiring a VP of Operations, you can refine your search process and give the candidate an idea of what to expect if they were to be hired.
You might be interested in these other posts about hiring a VP of Operations:
– When to Hire a VP of Operations
– What to Look For in a VP of Operations
– 10 VP of Operations Interview Questions
– What to Pay your VP of Operations
– How To Hire a VP of Operations
What questions do you have about how to hire a VP of Operations? Let us know in the comments.
Y Scouts is an executive search firm that helps nonprofits and social enterprises find exceptional leaders. Contact us if you are looking to find an exceptional leader. To be considered for exceptional leadership opportunities with our clients, please take the first step by joining the Y Scouts Leadership Community.