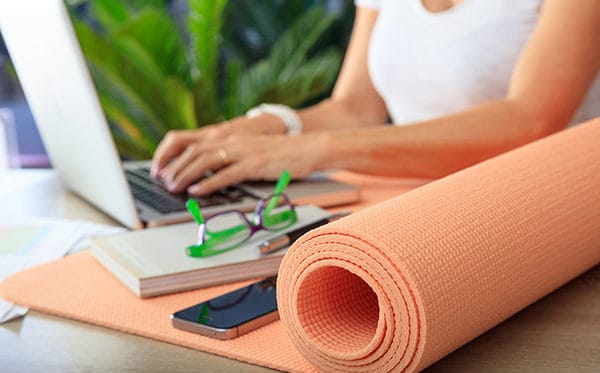 In just a short time, the words "New Year, new me" are going to be buzzing around gyms and offices alike. These aren't just people with goals, these are your current employees and prospective employees! And no, you don't need to replace their seats with treadmill desks.
There are a lot of ways to help them be their best while showcasing the company as a "best place to work." They will thank you for it, too. A Virgin Pulse survey found 88 percent of employees believe that having health and wellness programs designates an organization as an "employer of choice."
In and out of the workplace, people are becoming more aware of their health needs, with Millennials spending $155/month on average on health and wellness. Minimal stress, work-life balance, and passion for the job are all taken into consideration more than compensation, as they believe this is a component of the overall culture. These aren't just "perks" to reel people in on the offer letter. This comes down to a culture—what we define as living your core values by genuinely caring about your employee's health, well-being, and shared interests. 
What can companies do to create this wellness-focused culture? 
Okay okay… I may be the health nut and yoga instructor in our office, so don't just take it from me. My team at Y Scouts has a diverse outlook on wellness, and they all know a thing or two about impacting culture… 
How do you think wellness positively impacts company culture?
"Wellness initiatives help define company culture. It's an emblem of core values in action!"
– Tasha
…
"Providing a couple of healthy meals to employees every week positively impacts our wallets and our productivity. On hectic days with back to back meetings, we're able to rely on healthy food in the fridge and minimize the hangry feeling when you don't have time to get out of the office for lunch."
-Daniel
…
"I think it plays a pivotal role in employee retention and happiness. Taking time to focus on the health and wellness of yourself, in turn, helps push people to positively impact their company."
-Jenae
…
"There are so many reasons to stay on the wellness path. There are also reasons why individuals don't prioritize this, but what I hear consistently is that people do not have time to fit wellness into their day or week. I think by offering incentives, it brings awareness for an individual and opportunity for them to "fit" wellness activities into their day. Our world is moving so incredibly fast, and we are continually responding to an email, text, or phone call. These types of incentives put wellness into the forefront of the workplace. The more healthy employees are, the more productive and energetic they tend to be in the workplace." 
-Erin
…
"Wellness is essential for human beings to thrive. It is fantastic that there is finally an emphasis on it because it allows employees to perform better, it allows individuals to be calmer and less reactive and therefore communicate more effectively. It also promotes a healthy lifestyle, which helps employees become better human beings and better professionals."
-Melissa
What companies can do to be a champion of this culture… 
Full-coverage health insurance with gym membership/wellness treatment discounts, employer contributions to HSAs. 

Flex schedules/work from home options to support more freedom and less rigorous schedules

In-office wellness classes, like yoga before the day starts or lunchtime group fitness

Short, on-site massages to reward employees for their hard work and tension relief

Nap pods/meditation rooms

Competitive challenges with team rewards (daily step tracking, fitness hours in a month) 

Junk-food snacks swapped with healthier options 

Paid time to do volunteer work within the community (1-2 days/year)
Let's cheers to the New Year by not only hitting revenue goals but by creating work cultures that support employees holistically. Providing the freedom and encouragement to integrate healthy behaviors outside positively impacts the team culture inside, driving the company closer to 2020 business goals.