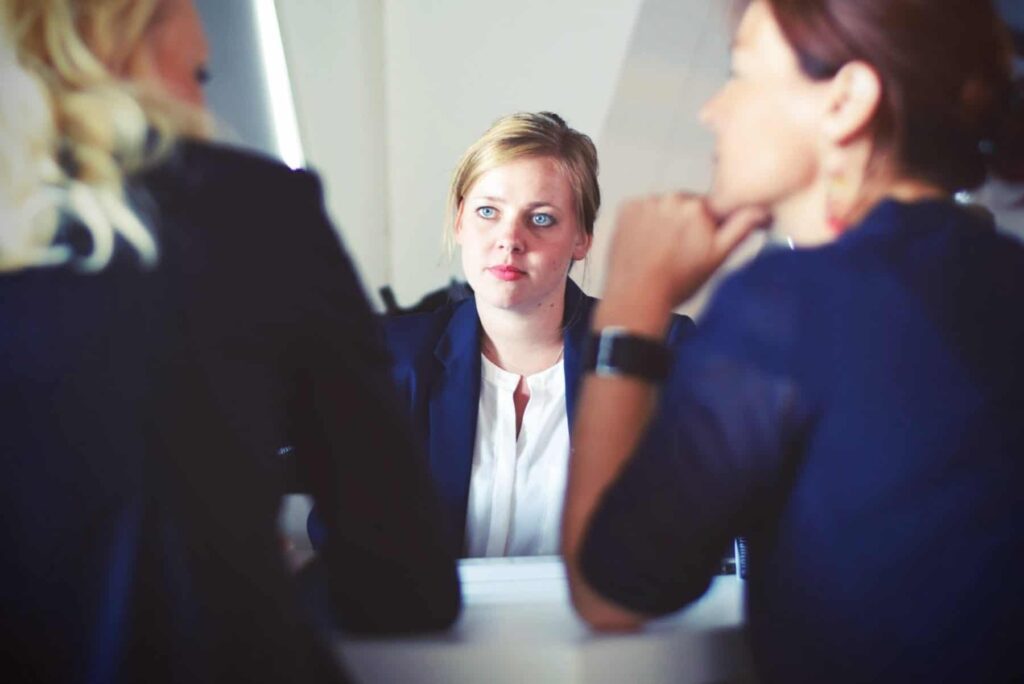 As an executive search firm, we help place leaders in CEO roles at nonprofits and social enterprises. The recruiters here at Y Scouts try to understand a number of things about a potential CEO in an interview – their purpose, values, career history, the high-impact success outcomes and achievements a C-Level candidate has had in their career – and a lot more. (Note: if you're looking to hire a CEO, contact us and we'd be happy to share our process with you)
But what else do leaders ask chief executive officer candidates? We asked the Y Scouts Leadership Community what their favorite CEO interview questions are and why they like to ask each one. Here's what they told us.
1. How do you see the company changing in two years, and how do you see yourself creating that change?
We want to hire a leader who thinks about where the company is going. We don't want a CEO who is comfortable doing things the way they've always been done. That's why we ask what differences they anticipate and how they see themselves shaping change in the future.
2. Pitch our service as you would in a sales meeting.
A chief executive officer needs to be able to represent the business in the public eye as well as in the office. Asking the candidate to pitch the organization like they would in a sales meeting demonstrates whether or not they are capable of holding a leadership role.
3. Give me one word that describes you the best.
I like this question because it is a quick way to evaluate the candidate's character. Nobody's personality can be fully summed up in one word, so the word they pick is very important. It shows me what they consider their most positive attribute.
4. What are your goals?
This question shows me what motivates a candidate to succeed and where they want to go. By knowing what motivates someone, its easier for me to relate to them.
5. What Are Your 3 Biggest Accomplishments?
This is a great CEO interview question because the answer speaks volumes. I can see if they are more proud of their accomplishments in their professional or personal life. Plus, I get some insight into what the person considers successful. For them, is success a good project, learning something new, or earning a certain amount of money?
6. What other CEOs do you look up to?
A person's heroes can tell you a lot about who they are now and who they aspire to be. It also tells me whose leadership and management styles they would like to emulate as the CEO of the company.
7. Tell us 3 things you like and 3 things you dislike about your current position.
If they answer with dislikes first, or if have way more than three dislikes, you learn a lot about their personality in the workplace. I place a lot of importance on company culture when hiring someone new, and this question is a good way to determine whether or not someone will fit in with mine.
8. Explain the rationale behind each of your career moves.
For this question, I ask people to start with their college graduation and tell me about each of their career moves from that point. The answer shows me how they use strategic thinking to reach their goals.
9. What has been the biggest let down in your career so far?
Everyone sees disappointment in their career, but I'm looking to see how the candidate used this disappointment to improve themselves. It's also interesting for me to see whom they blame their disappointments on. If they think other people are responsible for their own mistakes, it's a warning sign that they might not be a good fit for the position.
10. In your own words, can you tell me what we do?
The best people we've hired have been able to answer this question in a way that demonstrates how they've researched our company's impact and how they could help us accomplish what we want to do. This question shows us who just wants a job and who wants to help our company move forward.
11. How are your communication skills?
Someone joining my company as a CEO needs to be able to communicate with their colleagues, direct reports, and myself. That's why I like to ask about their communication skills – it's a must-have quality.
12. How would someone write about your life for a magazine or newspaper?
Everybody has an interesting story, and it's a newspaper or magazine writer's job to find it and tell it. This question gives me the chance to see what the candidate thinks are the most interesting details of their life, which tells me a lot about what they value and how they act.
13. Teach me something I don't already know.
According to a good friend of mine, the hiring department at Google uses this question at some point in the hiring process. It requires the candidate to think of a unique skill on the spot, and gives them an opportunity to demonstrate their creativity and personality.
14. What animal are you the most like?
This question makes candidates think creatively on their feet. It teaches me a lot about who they are as a person, and shows me how good they are at seeing the best qualities in others.
15. Ask questions that determine cultural fit.
My company really focuses on hiring people that fit into the company's brand. A lot of people have the talent to do the job, but finding the best fitting candidate is the key to making a new hire successful. That's why my company asks people questions that reflect our company's culture.
You might be interested in these other posts about hiring a CEO:
– When to Hire a CEO
– What to Look For in a CEO
– How to Hire a CEO
– What to Pay a CEO
What CEO interview questions have you been asked? Let us know in the comments.