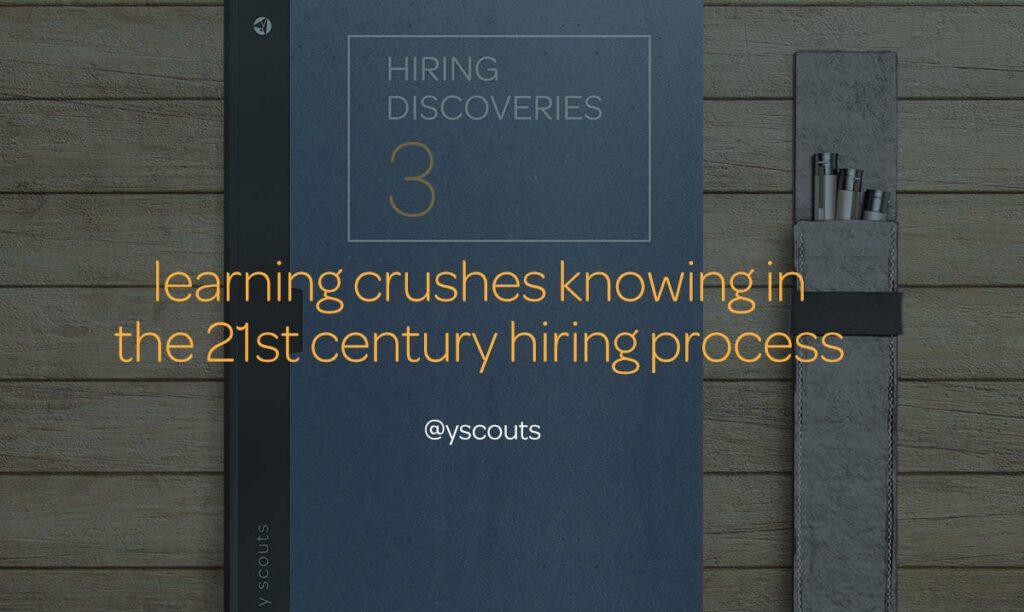 The best practices for recruiting quality leaders start with the search for a lifelong learner.
Learning crushes knowing in the 21st century hiring process
Only recruit and hire leaders that aggressively pursue professional and personal growth opportunities.
The world is changing faster than ever before and technological advancements are placing a demand on us to adopt a growth mindset. Now more than ever, there is a need for leaders to embrace relentless learning to deliver the best outcomes for our organizations. What worked well yesterday works less well today, and may not work at all tomorrow. Therefore, Y Scouts created this discovery series to share with you what we've learned along our journey of 5+ years in executive search and hiring innovation. Below is the third in our series.
Discovery: In the process of hiring to achieve the best possible outcome for every role, learning crushes knowing.
So, here are three questions you can use to determine if the candidate has a relentless learning orientation and growth mindset:
1. Who is your mentor(s) and what recent challenge(s) have you sought their advice for?
Listen to determine if they have a 'go-to' person outside of their company. It highlights their willingness to seek help, counsel and/or diverse perspectives, which can be an indicator of a desire to learn and grow.
2. What's one mistake you've made in your career that you wish you could go back and fix?
Listen for ownership versus a victim mentality/language. If the candidate is not able to share a specific story, keep looking. Every leader has made a mistake.
3. What are you learning right now?
Every candidate should have at least one immediate answer to this question. If not, be afraid.
In conclusion, one of our core values at Y Scouts is Relentless Learning. And it's why we will continue to serve up new questions as we discover what leads to the best outcomes in the hiring process.
Check out the first two articles in our three-part series:
What other best practices for recruiting leaders in the 21st century would you add to this list? Let us know!
---
Y Scouts, a leadership search firm, finds purpose-aligned as well as performance-proven leaders to help organizations achieve their missions faster. Ready to supercharge your leadership search and get the right person in your organization? Contact Y Scouts.